Managing Change Guide
Over 333,000 copies of this popular free guide issued worldwide from 2004 to 2020 (and still in demand...)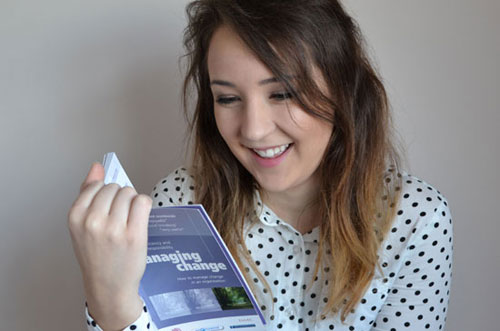 Written by Phil Harding and John Pooley (of The John Pooley Consultancy) the guide 'Resource Efficiency and Corporate Responsibility - Managing Change' was first produced by the Government Office for the South West (Sustainability & Environmental Technologies Team) in partnership with Envirowise in 2004 and re-published as a paperback in 2007 for its 4th print run.
It has been in high demand in both printed and electronic format by managers and business schools across the world. "Groundbreaking", "unique", "refreshing", "excellent" - just some of the comments received about the guide. Recognised for its original and effective approach to the whole subject of change management in the context of improving resource efficiency and environmental performance, it is useful for assisting just about any change management process. Its Change Management Matrix is in particular a useful and proven diagnostic tool and route map for management teams.
It can be downloaded here (pdf 780kb opens in new window):
Change Management Matrix
You can open the useful "Change Management Matrix" here as a stand alone single page pdf document to use as a diagnostic tool and route map with your management team: Change Management Matrix (pdf 113kb).
You can also download two case studies of the matrix to help you see how this can assist your organisation:-
Here are just some of the many positive comments made about this guide:
'as good as anything I have used'
- Open University MBA Programme tutor (and CEO), West Midlands
'We are using the guide's Change Management Matrix as a simple and effective tool to diagnose how we are responding to climate change at all levels of our organisation... We use it to support regular reviews which ensure we maintain momentum.'
- Regional Director, Environment Agency (South West), Exeter
'We shall continue to use the matrix to re-examine and maintain our performance levels'
- Riviera International Conference Centre, Torquay
"Managing change is a very important factor in the success of every business. This guide will help managers to think creatively about how they manage change, whilst avoiding many of the pitfalls that other companies have encountered"
- Envirowise
"we intend to use as a resource in MBA teaching"
- Warwick Business School, University of Warwick
'A wonderful resource [Change Management Matrix] for assessing where your organisation is at with its implementation of a particular change initiative... I will be utilising this useful resource from herein!'
- Inspirational speaker, trainer and coach, USA
'Change Management Matrix is a particularly valuable tool for understanding change management.'
Environment Agency (UK) in Climate Ready - Adaptation Wizard
A Special Corps
- The Beginnings of 'Gorkha' Service with the British
- by A P "Jimmy" Coleman (1999)
The military qualities and exploits of 'Gorkha' (correct pronunciation of the anglicised spelling 'Gurkha') have received much well justified attention. However, information about the beginnings and early evolution of the Gorkha service with the British has been less well known.
This superb work traces the early recruitment of Gurkhas into the East India Company's Bengal Army and is based on sound research and documentary evidence, a significant part of which is published for the first time.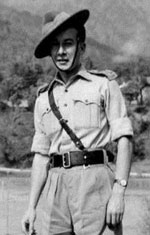 The author, Phil Harding's father-in-law, Captain A P "Jimmy" Coleman (1922 - 2000), served in the 1st King George V's Own Gurkha Rifles during World War II. It is the wishes of Jim Coleman's family that this important and scholarly yet highly readable work should be available for all to read.
To download the book click on this link: A Special Corps by A P Coleman, 1999 (pdf 6Mb) or on the picture of Captain A P Jimmy Coleman pictured left in his Gurkha uniform in Nepal during WW2.
Note. The proceeds from the published hard copy of this book (sold out in 2002) went to support the Gurkha Welfare Trust. GWT cares for ex-Gurkhas and their families and helps repay the debt of honour owed to the brave Gurkha soldiers who have fought for our freedom since 1815.

© All rights reserved. Estate of A P Coleman 2010. If you wish to reproduce or use text or extracts from this book for commercial purposes (publication, film, radio, etc), contact Phil Harding).
---
Miscellaneous
Sit or Squat? Lessons from other cultures
Dr Vicki Harding's paper (1999) explores the very real health benefits from the practice in some cultures of squatting rather than sitting on Western style chairs or loos.
To see the paper click on link:
Sit or Squat? Lessons from other cultures - Dr Vicki Harding, 1999 (pdf 31kb).
Are we being patientist?
Dr Vicki Harding's paper (1998) making the case for replacing some more traditional language used by healthcare professionals in their approach to patients with chronic pain with a more patient-focussed language demonstrating understanding, care - in the real sense - and compassion.
To see the paper click on link:
Are we being patientist? - Dr Vicki Harding, 1998 (pdf 47kb).
Margaret Thatcher reads speech written by Phil Harding...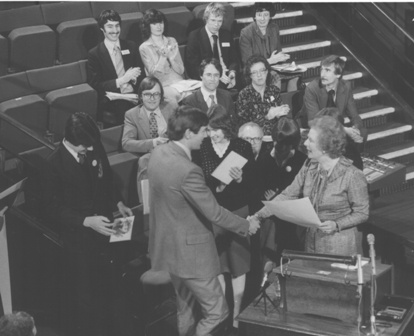 Mrs Thatcher and Phil Harding (and others!),
National Schools Energy Conservation Competition Awards,
Royal Institution, London, January 1982
"I don't need civil servants to write speeches for me!" - PM Margaret Thatcher, 27 January 1982
The most famous person Phil helped write a speech for, whilst working in Whitehall at the Department of Energy, Thames House South, Millbank, London SW1, was for Margaret Thatcher during her first term in office as Prime Minister in January 1982.
As she prepared herself to address the audience, to their amusement she dropped the speaking notes down onto the podium desk, looked up with an expression of disdain at the team of officials sitting together (including a young Phil - see top RH corner of photograph) and said "I don't need civil servants to write speeches for me!" We wish we had known that beforehand...
Her speech had taken many hours of careful preparation as this was before office computers and every revised draft had to be re-typed again and again by a long-suffering typist in the Department of Energy's typing pool. Every freshly typed version was re-proof read - you did not dare make any mistakes in Mrs T's speech! Phil had delivered personally the speaking notes to 10 Downing Street the evening before.
Having made that point she then gave an excellent speech about her approach to energy conservation based on the need for thrift during her childhood as a grocer's daughter. She only referred to the notes to read the factual parts about the winning teams and their competition entries; the parts written by Phil.